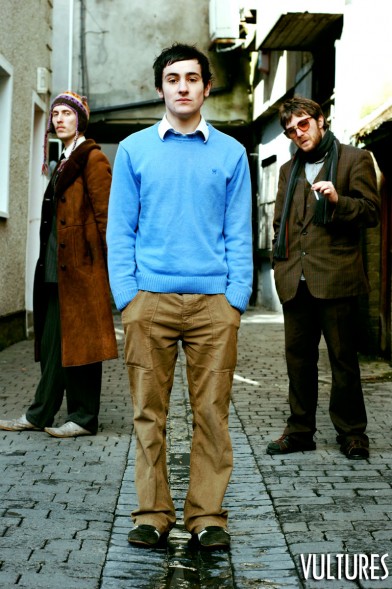 A quick tangent from all things theatrical for a moment to inform you all of an exciting project that a number of us folk are currently working on.
Vultures is a new webcom about three private detectives who run a small scale private investigation agency in small town Ireland. The moderately successful business is called Vultures Private Investigation and specialises in dealing with divorce cases, fraud, missing persons, animals and plants and occasionally, just occasionally, they'll be served up something that approximates a mystery.
The three men are Jim Vultour (John Morton, who wrote and performed in Heart Shaped Vinyl and played Bell in Cannibal!), a trained private detective with a keen deductive mind, a rational thinker obsessed with detail and also a master of disguise. Dan McGrain (David Thompson who was Liam in Heart Shaped Vinyl and Packer in Cannibal!) is a graduate of criminal law and journalism equipped with razor sharp interrogative and interviewing skills, a keen reader and researcher and the chronicler of all their thrillingly mundane cases. Niall Tennyson (Sean Hackett who was Bryan in Heart Shaped Vinyl and Crazy Old Ralph in Cannibal!) is a recently graduated student of police science. He's a field work specialist with expertise in surveillance technology and technical surveillance countermeasures.
These are three of the finest detectives operating today. They are also dysfunctional, eccentric and most of the time, bored. These are the Vultures.
The show was shot in Kilkenny and a lot of the cast and crew involved are members of the Devious crew. It's a small city, hey, and we're all so multi disciplined. Have a look at it for some new comedy lols.
The series is the brain child of Paddy Dunne, John Morton and Alan Slattery of Mycrofilsm and the first episode of the show, entitled The Kris Kringle Konundrum will hit the internet this Christmas. Look out for it on their website VulturesPI.com!
Merry Christmas and God bless us, everyone!
(Visited 13 times, 1 visits today)