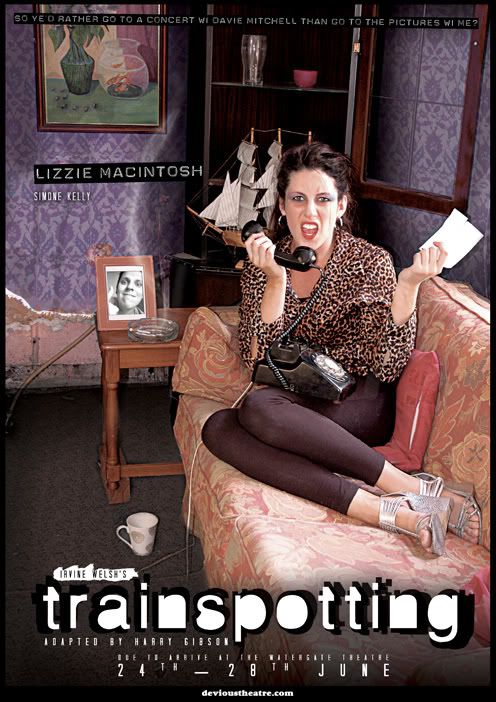 'So ye'd rather go tae a concert wi Davie Mitchell than go to the pictures wi me?!!?'
The latest character in our series of Trainspotting posters is the introduction of the shrieking girlfriend from hell, Lizzie MacIntosh.
Played by Simone Kelly, Lizzie is loud, overbearing, demanding and has a mouth like a sailor. This does not make life easy for her good natured boyfriend Tommy. So, why stay with her? Well, she's a cracker in the sack, isn't she?
Simone Kelly has appeared in every one of our productions so far. She played Julie in all three runs of Heart Shaped Vinyl and also appeared in Cannibal! The Musical.
This poster also features Michael Murphy as Davie Mitchell. One of his many guises, Michael plays more than a dozen characters in Trainspotting. This is his debut production with Devious Theatre.
These character posters for Trainspotting serve to introduce the many faces of Irvine Welsh's work, or even reintroducing them to people familiar with the previous incarnations of the characters.
As designed by Paddy Dunne, the posters will be unveiled in the weeks leading up to the performance.
Tickets for Trainspotting are already available in The Watergate Theatre and can be purchased at 056 – 7761674.
Trainspotting will arrive onstage from June 24th to the 28th.
(Visited 79 times, 1 visits today)