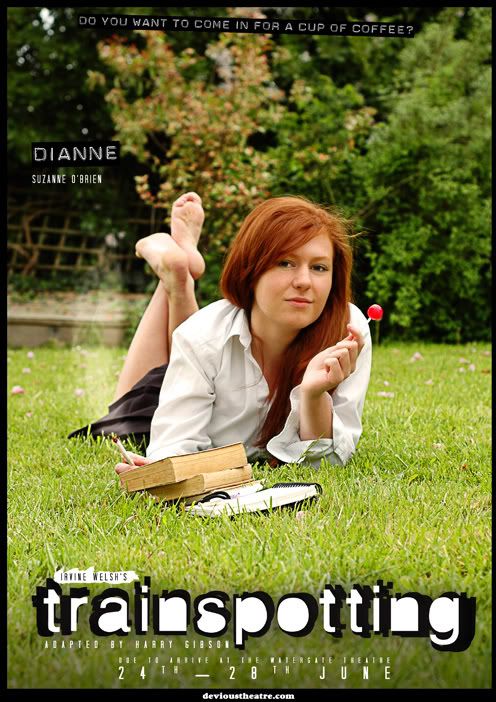 'Do you want to come in for a cup of coffee?'
Our latest character introduction in our series of Trainspotting promos sees debut of the smart mouthed beauty with a devious secret, Dianne.
Played by Suzanne O'Brien, Dianne likes to wrap men around her finger, not for any malicious reason, just because, well… she can. It's all the more helpful if they can score her some hash in the process. But as our picture reveals, there's something Dianne isn't telling Mark Renton. Something slightly, Lolita-esque?
Suzanne O' Brien is a stalwart of our company at this stage. She has previously appeared in Heart Shaped Vinyl and Cannibal! The Musical.
These character posters for Trainspotting serve to introduce the many faces of Irvine Welsh's work, or even reintroducing them to people familiar with the previous incarnations of the characters.
As designed by Paddy Dunne, the posters will be unveiled in the weeks leading up to the performance.
Tickets for Trainspotting are already available in The Watergate Theatre and can be purchased at 056 – 7761674.
Trainspotting will arrive onstage from June 24th to the 28th.
(Visited 32 times, 1 visits today)