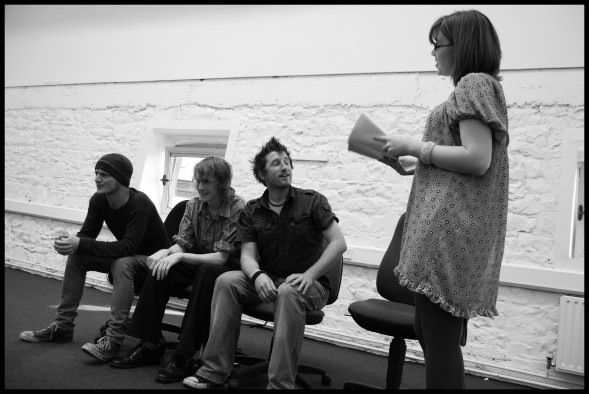 So the rehearsal process continues at Devious Towers (our super sexy rehearsal location smack in the middle of Kilkenny). What with the bank holiday weekend upon us, this week has been pretty intensive so far, and continues to be with two more lengthy rehearsals scheduled for tonight (Wednesday) and tomorrow (Thursday).
Speaking from an actors point of view (I'm playing Tommy, don't you know) I've had a reasonable week thus far, knocking out accent kinks wherever possible with the daes and wis, naes and likesays, ye ken?
Proper junkies that we are, we're also weening ourselves off scripts this week – at least for the scenes that have been blocked, and blocked, and drilled into your head. Next week should see the entire play blocked off, scripts binned, full props at the ready and regular runs of the show set for the following week.
We've also got our press hats on this week (what a scoop!) so expect a flurry of activity over the coming week with regional and national press releases, sneak photos from the rehearsal process and more promotional posters than you could shake a stick at. Or a fist. Or a Scottish flag.
I'm sure there'll be someone along soon to fill you in on how the week continues to go. In the meantime, enjoy your lunch on this fine Wednesday afternoon.
Ken
(Visited 1 times, 1 visits today)