It's not often that a play you produced gets turned into a TV pilot but that's exactly what's happened with Smitten.
John Morton's second play which we originally produced back in 2008 and revived again in 2011, has become one of this years RTÉ Storyland offerings on the RTÉ Player. Produced by Mycrofilms and shot and set entirely here in Kilkenny, Smitten takes one of the subplots of the play and adapts it into a concise 20 minute comedy drama. With not as much dancing it must be said.
The series concept looks at a particular character per episode, and if only this episode gets made, we'll be looking at the very much smitten (as in afflicted and beleaguered) character of Bronagh. Bronagh was previously played in the stage iterations by Annette O'Shea and Maria Murray. Here she's played by Aoife Spratt and the story focuses on her discovery that she's pregnant on the same day her ex boyfriend Dave goes missing.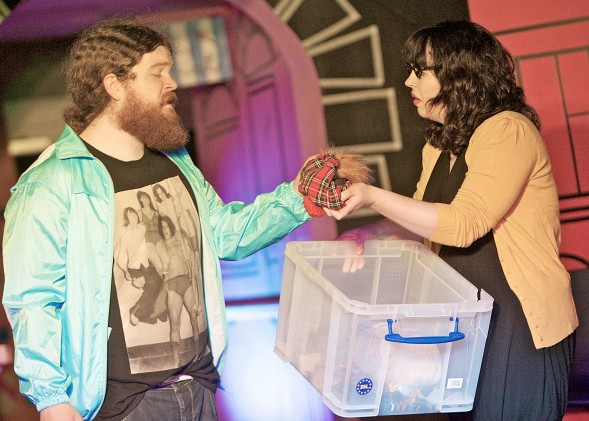 Some members of the theatrical line up of Smitten transfer over to the TV version with David Thompson, Jack O'Leary and Amy Dunne reprising their roles as Kevin, Tony and Cat from the 2011 version. There's also a cameo from Lynsey Moran as Ailbe who she previously played in both stage versions.
They are also joined by Clare Monnelly, Peter McGann, Leah Egan and Gus McDonagh, the latter three of whom have all worked with us here at Devious before. RTÉ Storyland isn't the first time the characters have transferred to screen with the short film Daffney Molloy And Other Catastrophes also being adapted from the play and featuring a lot of the same cast. It premiered at IndieCork back in October and will next screen at the Chicago Irish Film Festival in March. It will go online later this year.
There's no competitive aspect to Storyland this year but all views will go a long way towards helping the show reach series potential. So please do give it a watch and a share. It's certainly a lot shorter than the play!
Watch Smitten on the RTÉ Player right here.
(Visited 29 times, 1 visits today)