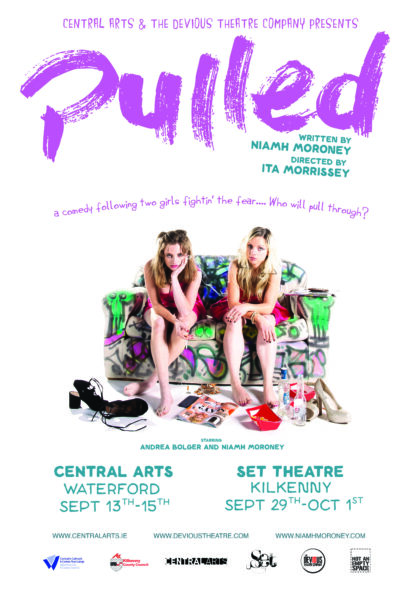 And we're onto the next one.
The third and final part of our Devious 10 programme is Pulled by Niamh Moroney.
A comedy about two girls fightin' the fear. Who will pull through? Amanda or Michelle? Maybe they'll just pull the heads off each other… Join these two man eating club stomping wans as they battle one of the worst hangovers of their lives as they attempt to follow a trail of snapchats, texts, and selfies back to memories long lost to shots- what and who they did last night?! How did Michelle end up here, where the hell was Amanda? Or… do they even want to know? 
Following Niamh's highly successful self penned & produced tour of
YER WAN
in 2014 & 2015,
Pulled
continues to explore the debacle of being a young woman on the pull in this day and age. How do young women react to a crisis when the odds are against them in pretty much every single way?
Pulled marks a major new collaboration between the two South East companies, Central Arts of Waterford, and Devious Theatre of Kilkenny, and is the third production in the celebration of Devious's 10th birthday. It is also the second in house production Central Arts will present around the time they are officially celebrating their second birthday.
Pulled will be performed by Niamh Moroney and Andrea Bolger who makes her debut with us. The show is directed by Ita Morrissey who we are delighted to welcome on board for the first time. It is produced by John O'Connell of Central Arts.
Pulled
premieres in Central Arts, Waterford from
September 13th-17th
. It follows up with a three night run in the Set Theatre, Kilkenny from
September 29th-October 1st
.
(Visited 8 times, 1 visits today)