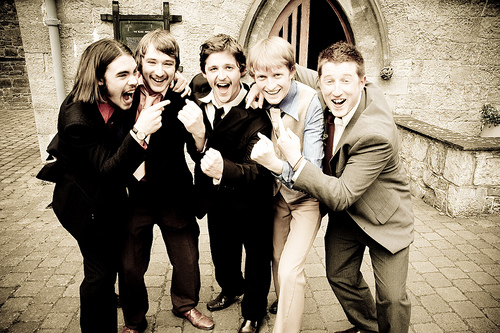 About The Show
The play takes place on the night before Dave and Linda's wedding. Liverpool, 1978.
Continuing our running exploration of aimlessness and disenchantment in your twenties, we performed Willy Russell's working class(ic) comedy marking our first crack at an established script. Russell's play first debuted in the Everyman Theatre in the writer's native Liverpool in 1978. It has continually gone on to be performed and adapted all over the world since then. Set between the male and female toilets of a dingy Liverpool nightclub, Stags and Hens tells the story of Linda and Dave's last night of freedom before they marry the next day. Dave has just crashed into the pub, absolutely legless with his sick splattered mates yanking him straight to the gents. Linda, meanwhile, just wants to dance away her doubts about the impending nuptials. So this would be a very bad time for an old flame to show up.
Add to this the fact that both the stag and hen parties have ended up in the same club and we have the recipe for a bittersweet comedy of drunken embarrassments that's alternately heartbreaking and hilarious.
The show was performed at the Watergate Theatre, Kilkenny, July 21st-25th 2009.
THE CAST
Maureen – Mairead Kiernan
Bernie – Ciara Donegan
Carol – Lynsey Moran
Frances – Maria Murray
Linda – Roisin O'Reilly
Dave – John Doran
Robbie – John Morton
Kav – Geoff Warner Clayton
Billy – Stephen Colfer
Eddy – Ken McGuire
Peter – Ed Murphy
Roadie – Paul Young
THE CREW
Directed by Kevin Mooney
Assistant Directed by Niamh Moroney
Produced by Paddy Dunne, Ken McGuire, John Morton
Stage Manager – Colm Sheenan
Lighting Design – Gerry Taylor
Sound Design – Ken McGuire
Sound Operator – James Doran
Production Designer – Paddy Dunne
Art Direction – Thom Dowling
Set Design – Eddie Brennan
Set Construction – Thom Dowling, Frank Dowling, Kevin Mooney
Costumes – Niamh Moroney
Make Up – Aileen Johnson, Jodie White
Poster Design – Paddy Dunne
Transport – Stephen Colfer, Anthony Mahony, Eddie Murphy
Photography – Ross Costigan, Paddy Dunne, David Galster, Ken McGuire
Front Of House – Biff Walsh, Teagan Jermyn
VIDEO
Cast Video Diary
(Visited 151 times, 1 visits today)