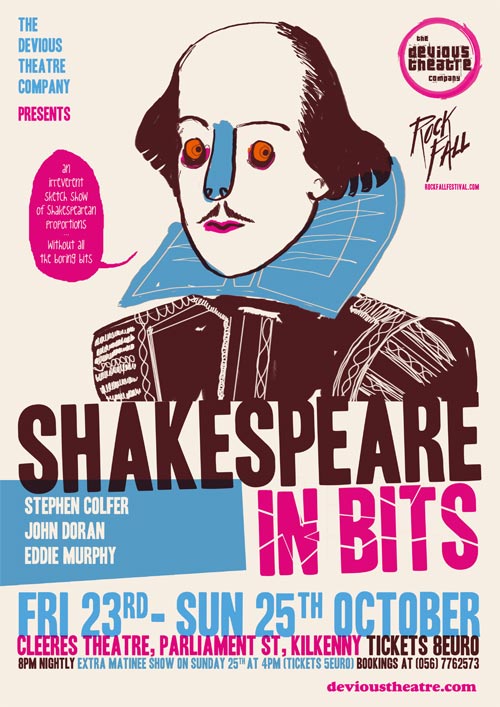 We're in the throes of our Dario Fo season and up to our theatrical necks in rehearsals for Accidental Death of An Anarchist, but never ones to sit about or turn down the opportunity to put on a show, we've managed to squeeze another production in, this time for the October Bank Holiday weekend as part of the Rockfall Festival taking place in Kilkenny with a follow up show in Dublin, the week after.
This time the show is Shakespeare In Bits which is described as 'an irreverent sketch show of Shakespearean proportions'. The new version of the show is devised by and starring Stephen Colfer, John Doran and Eddie Murphy, three familiar faces from past Devious Theatre productions who last appeared in Stags and Hens back in July. The show consists of a variety of Shakespeare related sketches, set pieces, battle raps and some very funny comedy. For any fans of the Bard it'll have you in stitches. And for anyone who's not a fan of Mr. Shakespeare, it's a 50 minute comedic dissection of his work which is a million miles away from how it's taught in schools.
Shakespeare In Bits was previously performed by Devious Theatre as part of the Shakespeare In The House festival which took place in Rothe House this past June. This is a new version of the production with some brand new scenes, cast members and musical interludes added for good measure.
This marks the third year that we have participated in the Rockfall Festival and as before, proceeds raised from the show will go to the O'Neill Centre (Enable Ireland) based in Kilkenny. Tickets are €8 and will be available shortly from Cleere's Theatre on 056 – 7762573. The show opens on Friday October 23rd for three nights only. There will also be a matinee performance of the show on Sunday October 25th at 4pm. This performance will be at a reduced rate of €5.
The show is being taken on the road for one night only and will be staged at the Ha'Penny Bridge in Dublin on Thursday November 5th. We'll have some more details on the Dublin outing for the show shortly and we'll be contacting our friends too to make sure your tickets will be available for the Bank Holiday weekend.
Keep an eye here on DeviousTheatre.com over the next fortnight as we'll be bringing you some updates on Shakespeare in Bits, some rehearsal photos and more in the build up to the opening night on Friday October 23rd. If you're not doing so already, keep up to pace with Twitter where we'll be providing some live updates and shots on show nights as well.
(Visited 12 times, 1 visits today)