"This is crazy. This is a full on assault."
And so we come to the last night of War Of Attrition in Kilkenny. It's been great to perform the play on home turf for the past two nights and we're looking to launch a full on assault on the audience for tonight's final show in The Watergate Theatre!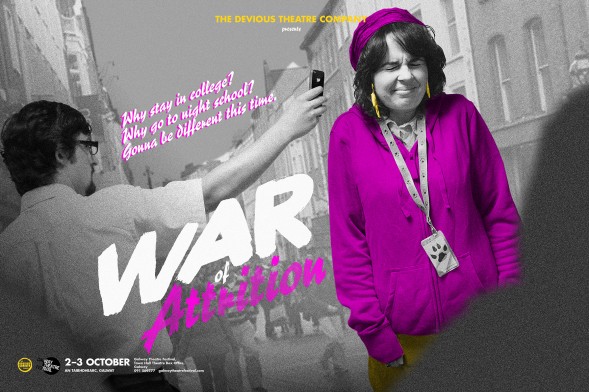 The reactions to the show have been fantastic and we're loving that people are digging our brand of cyber warfare and audience trolling. This is the final night of Roseanna Purcell's run on the show as Daisy. She's been giving such an amazing (and Fringe award nominated!) performance the past few weeks and it's been unreal craic working with her on this show. Due to some scheduling wars, she won't be joining us for our Galway Theatre Festival jaunt next week but we are absolutely delighted to welcome Amy Dunne on board for our first trip to theatre's out west! It's fantastic to have Amy in the cast, she's been integral to so many of Devious Theatre's productions in the past and we're well excited to see her getting her Psycho Chugger on!
So that's where we're at, war torn and ready for the final battle! If you're in the neighbourhood come see us for our final show in Kilkenny tonight at 8pm. Tickets can be bought at the Watergate Theatre Box Office on Parliament Street, on the phone at 056-7761674 or online here. If you're out west, come see us next week at Galway Theatre Festival. We're bringing the troops!
(Visited 7 times, 1 visits today)