And we're ready to serve to the audience on a big shiny pink theatre plate. The last three weeks have seen us engage in a flurry of rehearsal, promotion, building, finalising, polishing, painting, tweaking, touching up and hammering for our production of Dario Fo's Can't Pay? Won't Pay!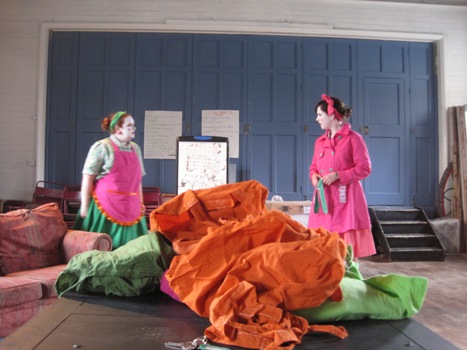 It's certainly nothing we're not used to, having engaged in a pretty much identical process on Accidental Death Of An Anarchist. This time we have the benefit of experience, having already gone through a journey into Dario Fo's world. The style is similar but this time it's all wrapped up in a technicolour 1950's dayglo feel. The one thing we're looking to replicate the most is all the ha ha's and ho's ho's of the audience. Filmed in front of a live studio audience! Cue APPLAUSE. LAUGHTER. APPLAUSE.
It's a very funny play but it's a very sharp and topical play. All the more so in Ireland at the  moment because of the constant strikes, union interferences and incidences of working people being shafted. It's on the bone. It's relevant and the point of us doing this play (and indeed the entire Dario Fo Season) is to shine a light on our country and the injustices within in it. The comedy then, is the sugar that makes the medicine go down. At the least, we hope it makes people think about the situation this country is in in a different way.
The promotion for the play has been going strong has with some lovely features in the local media. On Saturday the cast took to the city and ran around in feverish pursuit of each other (much like the play) and caused all sort of uproar around the place. It drummed up some nice guerilla publicity for the play, although we definitely have to voice worry that all the large characters in colourful costumes will attract lots of ickle children to the play and then they'll become corrupted by swearing and social commentary! Gasp! Ah well, we'll consider it indoctrination.
We've been in the Set Theatre for the last 2 days getting everything into place. What has struck me with a certain amount of satisfaction is how colourful the whole production is. As soon as the lights, costumes and heightened make up hits our multi coloured (well, green and orange mostly) set everything just POPS. It's insanely colourful. And our cast have proved wonderfully adept at giving performances that match that. All 5 of them are just huge. And it's great! They're so animated and sweeping in all their movements and gestures. It's like one big cartoon!
We open at 8pm tonight. There's a few last minute bits of painting, tidying and tweaking (fucking cuckoo clocks) but apart from that, we're ready to roll it out! We hope the audience enjoy watching it as much we've enjoyed making it. They say too many cooks spoil the broth but on this show we've had some fantastic cooks and I think we've served up a pretty tasty broth if I do say so myself. So please, tuck your napkin in, get your knife and fork and come dine with us tonight! Mmmm….
Can't Pay? Won't Pay! opens TONIGHT in Set Theatre, John Street, Kilkenny. It runs until Sunday March 14th at 8pm nightly. Tickets are 13 Euro and can be bought at Rollercoaster Records, Kieran Street, Set Theatre Box Office, John Street and online on this very site.

(Visited 11 times, 1 visits today)