Well, here's a blast from the past. As we're on a lull (video-wise that is) between productions, today is a fine chance for us to get some footage from Cannibal! The Musical! up online, the staging of which took place back in 2007 as our first major Watergate production.
John uploaded the footage this afternoon, prompting me as director (co-director alongside Kevin Mooney) to share a few words. From viewing the clip of course you'll see that when Devious Theatre do blood, we really like to do blood. The actors you'll see above are John Morton (shirt, as Shannon Wilson Bell) and Dave Thompson (jacket, sweet beard, as Alferd Packer). At this point in the production, I (as Israel Swan) had already been shot, killed and eaten by fellow my fellow miners, providing a source of food for our troupé who had traveled through the mountains in search of gold, only to wind up lost in the dead of winter.
Packer leaves the camp, returning to find that Bell has gone completely mad and killed everyone else, cooking up their feet, hands, hearts, flesh to make a fine feast fit for any cannibal.
Hilarity, of course, ensues.
The music that you hear backing the scenes was performed by our own orchestra, conducted by Kevin Reade, the first time we've used a live orchestra for any of our productions. It was also the first and only time that we've had a cast in the region of 25 actors, which included some doubling up as well. That was a big one.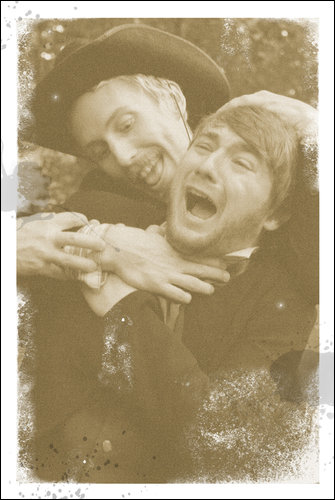 On a whole, Cannibal was a real ground-breaking production for us. Even though it was only two years back this August, it seems almost like a lifetime ago when put alongside the amount of work that we've done since then between a Trainspotting, Smitten, War of The Worlds, Shakespeare In Bits, Stags and Hens and more besides. But however long ago it seems, the show still stands as one of my more memorable and much-loved theatrical moments in all the years I've been involved in theatre, particularly as I'd spent almost seven years trying to get the production to the stage in the first place.
As a company member for Devious, I've worked as a producer on every production to date, and taken to the stage in each as well. Producing the show would have been one thing but to be able to co-direct the production, especially as our first major production, was a real treat (and an incredible learning curve), but it's also something that we're able to afford others in the group with Kevin (Heart Shaped Vinyl, Stags and Hens), John (Trainspotting, Accidental Death of An Anarchist), Niamh (Trainspotting), Colm (Smitten) – the chance to take the reins on a production and step into a directors role.
This might be the only clip we decide to release from Cannibal (though I'm sure we've a few spare DVDs knocking around somewhere) so we hope you enjoy it.
(Visited 21 times, 1 visits today)