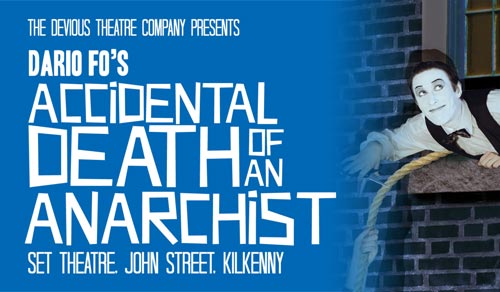 Tickets for our upcoming performance of Accidental Death of an Anarchist are available to the general public from today. There are three ways you can get your tickets.
Phone or call in person to Langton House Hotel on John Street, Kilkenny, the home of Set Theatre. Tickets are available from the lobby, priced €12 (no booking fee), or can be reserved for collection by phoning 056-7765133. Please note that tickets on reserve should be paid for minimum one day prior to date of performance. Tickets are currently on sale at Langtons.
Call in person to Rollercoaster Records, Kieran Street, Kilkenny. Tickets are available from Rollercoaster priced €12 (no booking fee). Tickets will be available to buy in Rollercoaster from midday tomorrow, Tuesday November 17th.
Order online via our secure ticket portal. Tickets are priced €12 and carry a booking fee of €1.05 (credit-card processing charge). You can pay by Mastercard, Visa, American Express or via PayPal.
As with our previous shows, tickets will also be available for purchase on arrival at the venue each night. Shows that are sold out will be advertised and promoted as such in advance of the performance to try avoid disappointment. Seating at Set Theatre is unreserved so we're advising people to arrive at the theatre early in order to secure your preferred seat. Doors open nightly at 7:30pm with full access to the bars at Set Theatre. Bars will close at the start of the performance, 8pm nightly, and will reopen for service during the interval… just as we like it! It makes a change from the amount of cans people bring to our shows anyway…
Each night of the show features a 15 minute interval, approx running time (including interval) is two hours. Help spread the word of the show by joining us on Facebook, Twitter and back here on DeviousTheatre. Hope to see you all there!
(Visited 10 times, 1 visits today)