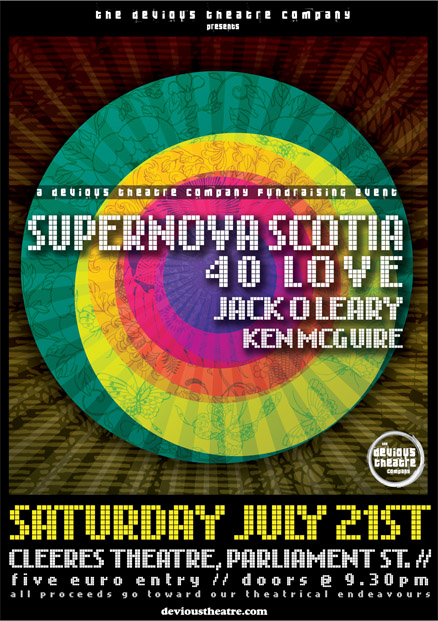 On Saturday July 21st, us Devious Folk take to the stage once again at Cleeres Theatre in Parliament St., Kilkenny. However, this time we shan't be flaunting our theatrical wares but rather displaying a showcase of musical talent set to thrill and delight. The event will act as a fundraiser and will hopefully help create an awareness of who we are and what we do. It'll also be a chance to catch some of the most exciting music acts this little marble city of ours has to offer.
First up on the night, will be Devious Theatre member, and no stranger to an acoustical set, Ken McGuire. Ken will be kicking the night off for us by grabbing a guitar, taking to a barstool and playing tracks from his successful band, The Happy Medium.
The next act of the night is one to be sure to keep an eye out for. Jack O'Leary's brand of music is one that avoids pigeonholing. He's sure to delight the fans and enrapture the uninitiated.
40 Love may be familiar to gig goers in Kilkenny, but not under that current title. Dave Thompson headlines the act which had until recently played under the moniker of "Thompson" supporting such bands as Digital Circus and Nina Hynes and The Husbands. The band will offer a nice juxtaposition against the rest of the acts with their folk rock sound and perhaps some interesting takes on some classics too.
Rounding out the night will be the unmissable sound of Supernova Scotia. Formed in 2006 , Dave Sheenan and co. offers us a sound like no other. Like the lost child of Wayne Coyne, Kieran Hebden and both of the robots from Daft Punk, Supernova Scotia have influences so wide and varied it would be difficult to begin to list them all here. The unique electronic sound will be brought to a live audience for the fist time this summer and is guaranteed to raise a few eyebrows, get some toes tapping and some arses on the dancefloor.
Admission on the night is a paltry five euro and proceeds go toward furthering the development of our theatrical troupe.
We hope to see you all there.
The Devious Theatre Company
(Visited 3 times, 1 visits today)