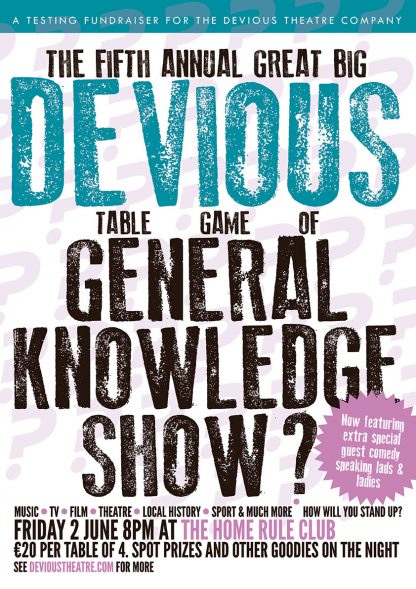 QUIZ KLAXON AHOY!
We're back in fundraising mode for our first event of 2017.
Please join us at the Home Rule Club on John's Quay, June 2nd for the Fifth Great Big Devious Table Game Of General Knowledge Show?
In other words… A SUPER MASSIVE DEADLY TABLE QUIZ FILLED WITH CRAIC AND now with COMEDY TOO! We need your support to keep creating and promoting our particular brand of theatre. All funds raised on the night will go towards the making of new shows and the development of new plays.
Test that brain muscle, test your team, get your quiz study books out and prepare for the abusrdist table quiz in your calendar year! Brush up for rounds on local history, music, tv, theatre, sport, recreated movie scenes and much more!
There are lots of novelty rounds, spot prizes galore, fun bits to be won and it's only €20 for a table of four!
Register teams in advance (and guarantee a table) by emailing info@devioustheatre.com. Or you can just show up on the night at 8pm in The Home Rule Club. More details to follow!
(Visited 5 times, 1 visits today)