It's been a hell of a 12 months for Devious Theatre. This time last year we were prepping for 3 plays. We did 4. Then did a play within a play, that kinda makes five. Plus collectively our core bunch of awesome thespians dipped their toes in and out of the water with other companies and festivals, so it's been nuts. But terrifically so. Currently, we're prepping for another 3… we hope it stays at that number.
Our big project of 2011 was In The Future When All's Well which was our biggest project ever in fact. Three plays in six months and two of them hit the road. We kept busy for the rest of the year though… and now we're absolutely, fucking wrecked. But happy.
Here's what we did:
Scratcher

Written and directed by John Morton, produced by Ken McGuire, Angela Barrett and Paddy Dunne, it took its bow on February 17th in Project Arts Centre as part of The Theatre Machine Turns You On Volume II. It played in Kilkenny Arts Office from 22nd – 26th February in Kilkenny Arts Office.We may just bring it back if it stays relevant… and so far, it is.
Shifting

Written by John Kennedy, directed by John Morton, produced by Ken McGuire, Angela Barrett and Paddy Dunne. Shifting played 18th – 23rd April in Kilkenny Arts Office as part of In The Future When All's Well. It turned out to be our biggest hit of the year.
Smitten

Written by John Morton, directed by Angela Barrett & John Morton, produced by Paddy Dunne and Ken McGuire. Smitten opened in Solstice as part of Cork Midsummer Festival on June 16th and played Kilkenny Arts Office from June 26th – July 2nd as part of In The Future When All's Well. We liked it better this time.
Bash: Latterday Plays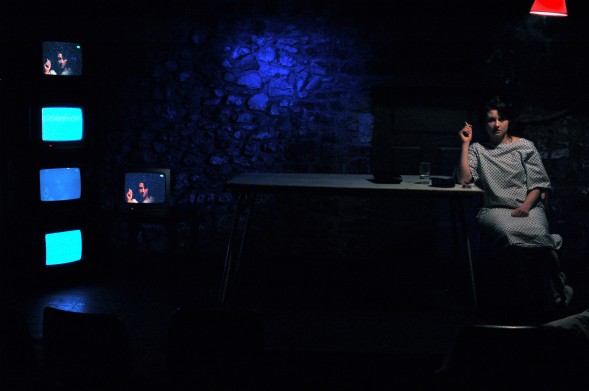 Written by Neil LaBute, directed by Ken McGuire, Annette O'Shea and John Morton. Produced by Angela Barrett. It played Cleere's Theatre from October 17th – 22nd. This was the first time we went serious… no one laughed. Much. In fact, some people walked out. That's what it's all about for us – keep them coming back for more, but keep them guessing.
And…. we capped off the year with a small little piece of Bard from some of our troupe in…
TEXT | Messages

Pyramus and Thisbe from A Midsummer Night's Dream by William Shakespeare, directed by John Morton, performed by John Doran, Amy Dunne, Ken McGuire, John Morton and David Thompson on December 14th in Project Arts Centre, Dublin.
The people who made all of this were:
Amy Dunne, Alan Butler, Ross Costigan, Paddy Dunne, Ken McGuire, Annette O'Shea, John Morton, David Thompson, Angela Barrett, Alex Christle, Linda Hanbidge, Eddie Brennan, Lucy McKenna, Richie Cody, Geoff Warner Clayton, Louise O'Connor, Sorcha O'Boyle, Alan Slattery, Darragh Byrne, Nathanael McDonald, John Kennedy, Eleanor Walsh, Peter O'Connor, Ruth Phelan, Jessica Walsh, Colin O'Brien, Rhian Gibson, Aoibhín Murphy, Adrian 'Razor' Kavanagh, Connie Walsh, Alan Doyle, Shaelin Vellani, Stephanie Cassin, Aidan Doheny, Jack O'Leary, Kevin Mooney, Gemma Grant, Suzanne O'Brien, Maria Murray, Lynsey Moran, Thom Dowling, David Sheenan, John Doran, Niamh Moyles.
Also major thanks to everyone who facilitated, sponsored, programmed, funded and supported this work: Kilkenny Arts Office, Mary Butler, Niamh Finn, THEATREclub, Lara Hickey, Zia Holly, Solstice, Dawn MacAllister, Ruairí Donovan, Shirley Somers, Eszter Nemethi, Cork Midsummer Festival, Johnny Holden, Paul McCabe, Cleeres Theatre, Project Arts Centre, Maeve Butler and everyone on our friends of programme: John Cleere, Darragh Doyle, Anthony McGuiness, Enda McEvoy, Darren Byrne, Steve Aylin, Tess Felder, Gemma McGirr, Patricia Walsh, Tom and Angela Barrett and Willie Byrne. Thank you all.
While we have them namechecked above, we couldn't have completed the year without the help from Mary Butler and Niamh Finn at Kilkenny Arts Office with the backing of Kilkenny County Council. In times when funding for arts is being cut left, right and centre, and indeed decimated in other areas, they continued their support of our company by putting a roof over our heads for six months to develop personally and professionally. Our residency gave opportunity to 44 individuals to work in a theatre space for six months of the year, to hit the road to Dublin and Cork and see what it's like to make theatre both on and off the stage. They have been firm supporters of our work since our inception in 2006 and they continued their support after the residency finished at the beginning of July by handing us the keys for our new home at The Maltings under the Not An Empty Space initiative. While it's up to us to pay the rent and the bills, they arranged everything for us, including the setup costs (which we must pay back) but as a result, we were able to produce works like bash and Pyramus and Thisbe for TEXT | Messages.
We've also stepped things up on the organisational front as well and now boast the letters LTD after our name. Check that. Boom.
Next year will see us return to the Watergate Theatre in July with a new(ish) play written by Connie Walsh and John Morton, a return to radio theatre, a prospective festival jaunt, John Kennedy scribbling a new play and a crash course play clinic with the wonderful people in Fishamble. More elaborations on all that and a lot more besides will follow as we kick off 2012. And again, hopefully all will be well.
So from ourselves (Angela, John, Ken, Paddy), our thanks again to everyone who made our 2011 possible. As much as we make theatre for ourselves, we do it for you too and it is you who drive us to continue to make more. Have yerselves a deadly Christmas, enjoy the time off and we'll see you again in the New Year.
(Visited 15 times, 1 visits today)