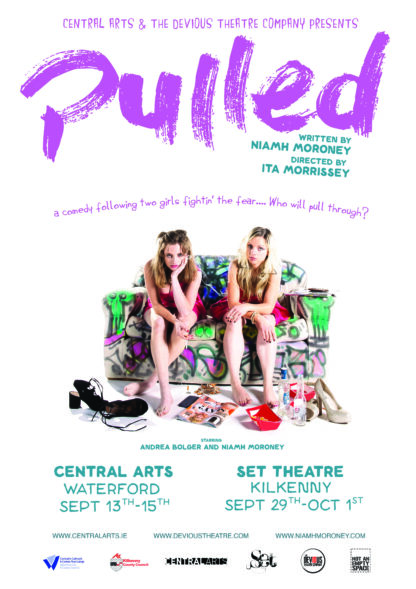 And we're onto the next one. The third and final part of our Devious 10 programme is Pulled by Niamh Moroney. A comedy about two girls fightin' the fear. Who will pull through? Amanda or Michelle? Maybe they'll just pull the heads off each other... Join these two man eating club stomping wans as they battle one of the worst hangovers of their lives as they attempt to follow a trail of snapchats, texts, and selfies back to memories long lost to shots- what and who they did last night?! How did Michelle end up here, where the hell was Amanda? Or... do they even want to know? 

Following Niamh's highly successful self penned & produced tour of

YER WAN

in 2014 & 2015,

Pulled

continues to explore the debacle of being a young woman on the pull in this day and age. How do young women react to a crisis when the odds are against them in pretty much every single way?

Pulled

marks a major new collaboration between the two South East companies,

Central Arts

of Waterford, and Devious Theatre of Kilkenny, and is the third production in the celebration of Devious's 10th birthday. It is also the second in house production Central Arts will present around the time they are officially celebrating their second birthday.

Pulled will be performed by Niamh Moroney and Andrea Bolger who makes her debut with us. The show is directed by Ita Morrissey who we are delighted to welcome on board for the first time. It is produced by John O'Connell of Central Arts.

Pulled

premieres in Central Arts, Waterford from

September 13th-17th

. It follows up with a three night run in the Set Theatre, Kilkenny from

September 29th-October 1st

.
The History: The Squad, originally nicknamed the Twelve Apostles, was a real life unit that were founded by Michael Collins in the run up to the War Of Independence. Their main goal was to counteract British Intelligence at this time, through means mostly focusing on assassinations. They did, as we term it in the play 'the dirty work of a nation.' Although they didn't exclusively have twelve members, the Squad rotated membership and to this day, the full extent of Squad members isn't entirely known.
It was a job, with a wage and many outsiders, men not fit for many other purposes, gravitated towards this assassination unit. While there weren't any documented female members of the Squad, a lot of Collins central intelligence agents were women. And more so than their male counterparts of the time, they were written out of the subsequent history.
The Inspiration: We came up with the idea when discussing Inglourious Basterds and the men-on-a-mission adventure movies that inspired it, and decided to write an Irish version of those stories. We found the perfect subject matter: an alternate secret history of the origins of Michael Collins' infamous hit squad.
The codename of the squad itself, the name of our villain Francis Dashwood, and the fire-and-brimstone tone came from setting it at the foot of the Wicklow Mountains near the notorious Hellfire Club. We started working on it in a flurry of excitement back in 2009. It was a Western and a War yarn at once, a Commando comic on the stage. Countless movies and the untold tales of Irish history inspired it.
Thematically, we were interested in telling a story of people who were written out of subsequent Irish history. Particularly the women of the Rising and Cumann na mBan who subsequently had their roles downplayed. In the 1916 centenary year, writing a play about the fervor it created in people after the rebellion felt like an interesting take. People who wanted an important role.
This is the idea behind Kathleen Sweeney as narrator. She's giving a voice to the voiceless, people like herself who fought for an Ireland that turned on them. Betrayal, at its essence, is what drives this story and we didn't have to stray too far from history to utilise that. Despite our cinematic influences, making it as a play has always felt like Sean O'Casey and Dion Boucicault having a conversation mediated by Bertolt Brecht. That was the 'highbrow' intention anyway. The main intention was a cracking night's entertainment. We hope you get that. The Execution: After intermittently working on it over the years, we took the script for a spin in August 2013. We did our first work in progress performance at Little Deviations: Volume 1, directed by Philip Brennan.
All the potential of the piece was there. Thanks to Artlinks support we were able to get Ken Bourke on board to provide dramaturgy for the script and he helped us develop it throughout 2015 and into this year. Getting a talented director like Sarah Baxter and getting the brilliant cast we did was the cherry on top.
For Devious Theatre's 10th birthday in 2016, not to mention the centenary of the 1916 Rising, it felt like the right production to do. It's like one big mish mash of ten years of Devious Theatre in one show. It's about a motley troupe, ill resourced and against the odds, trying to tell their stories during a tumultuous time in Irish history. Fitting enough. Peter McGann & John Morton